Chainmail Classes / Chainmaille Classes / Chain Making Classes!
Persian Chainmail - a Chainmail Class / Chainmaille Class / Chain Making Class!
Learn to make this jewelry at Wild About Beads.
Take our chainmaille classes and learn to weave wire!
---
Persian Weave (Foxtail) Chainmail Bracelet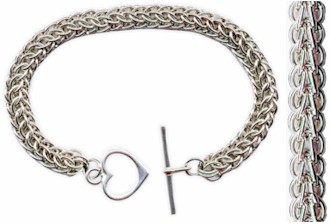 Length
Previous Experience
Tuition

2.0 hours

Completion of one
of our previous chainmail
classes required

$12 Plus materials
One of the most intricate and most beautiful weaves. A dense weave with a beautiful look and feel. These bracelets are very resistant to twisting, so the complex pattern is always visible, yet they move easily in any direction. Learn the tools and techniques used to properly link jump rings to form this beautiful pattern.
Materials are not included in tuition, participation requires purchase of kits containing required materials. Materials will be available for purchase at class. 14kt Gold Fill available in limited supplies or with notice.
Back to our full web site:
WildAboutBeads.com Web Site - Click Here
View our Class Calendar:
WildAboutBeads.com Class Calendar - Click Here