The Amazing Bead Sweep

You have to see one in action to believe how this simple tool can quickly and easily sweep up lost beads or other small items from carpets, rugs, bedspreads, and more.  The best part is they're not only easy to empty, but you can retrieve lost or dropped items.  Stop wasting money on beads lost to the vacuum cleaner - get them back with the amazing bead sweep!
Vacuum cleaners are great, but sometimes they just aren't what you need! Wouldn't it be great if there was a small, light, vacuum cleaner that you could take anywhere and use anytime quickly and easily?
The amazing bead sweep is an ingenious cleaning brush that is about the size of an eyeglass case (approx. 6"x3").  It requires no cords, bags, batteries or tape.  There is nothing at all to add or replace.  Very simple to use and astounding how well it works.
| | |
| --- | --- |
| | |
| Just run the hand sized sweep back and forth over the area.... | and dirt and debris are drawn into the sweep ready to discard or be used again!  |
 Simply run the sweep back and forth over the area you wish to clean and items are drawn up inside the sweeper.  Pop open the lid and empty into the trash or take back those lost beads to use again.  We've saved so many beads from the vacuum cleaner with this great sweeper we decided to sell them.  Use them on pet food, seeds, just about any small mess.
Great for the home, car, boat, RV, or anywhere you need a quick and easy cleaning tool. 
We're offering them at $6 for one, two or more for $5 each.  Great gifts!
Want to see how well these things work?  - check out the video clip:
*NETSCAPE USERS - right click, "Save As", and view from your computer.
Download it Here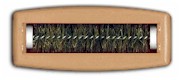 Item # 248

$ 6.00