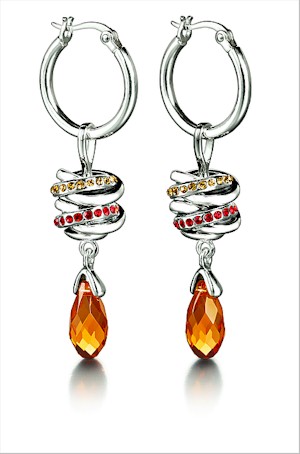 Pin It

Amber Hoops


Light dances and elegance abounds with the Briolette Earring Bead Drop with orange crystal Swarovski Elements. Place a Bead Drop on a Chamilia earring to create an elegant look or make a stylish statement by adding a bead to create your own design.



Design # 3923:JD06

Creating this design is as EASY as 1-2-3!

1) Review the items below, everything you need for this project is listed below. Uncheck any items you already have.

2) Press the "Add Checked Items To Cart" Button.

3) When you're ready complete your checkout and we will get your items shipped to you right away. Before you know it you'll have everything you need for this beautiful design!
Item Price (ea)
Quantity Needed For Design
Item Description
Leave Checked To Add To Cart

---

Only: $40.00 each
Chamilia-SS Urban Hoop-Small
Item # 1310-0005

---

Only: $75.00 each
Chamilia-SS Drop-Orange Swarovski
Item # 1320-0004

---

Only: $50.00 each
Chamilia Regale - Umber Swarovski
Item # 2025-0772

---

Only: $50.00 each
Chamilia Regale - Chianti Swarovski
Item # 2025-0786

Note: Please Choose Options For This Item


Sorry, This item is no longer available from the manufacturer.
Trollbeads - Mocha, Gold
Only: $661.00


Chamilia Sterling Silver - Cow
Only: $27.00

LOVELINKS-SS PANDA AND BABY
Only: $49.00