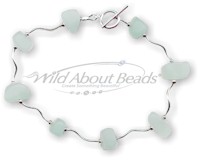 Pin It

'A Day At The Beach' Beach Glass Anklet


Evoke feelings of a leisurely stroll along the seashore.

The sterling silver accents in this piece will remind you of the gently flowing motion of the water while the soft colors of beach glass beads relax, calm and inspire thoughts of summer.

Available in 10 different colors, choose the one that's just right for you.

A basic stringing project you will have completed in no time, but a piece of jewelry you will treasure for a long time!



Design # 598:DI05

Creating this design is as EASY as 1-2-3!

1) Review the items below, everything you need for this project is listed below. Uncheck any items you already have.

2) Press the "Add Checked Items To Cart" Button.

3) When you're ready complete your checkout and we will get your items shipped to you right away. Before you know it you'll have everything you need for this beautiful design!