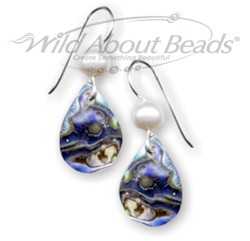 Pin It
Abalone Teardrop Earrings

The most colorful of the Abalone shells, these teardrops have great luster and iridescence.
To complete this project, simply:
Add beads to the special ear wires listed below (or we will do it for you!)

Add the Abalone shell teardrops onto the ear wires

Enjoy!
Note: natural materials experience some variation in patterns.
Make the loop on the ear wire as large as possible for a nice dangle.
Tip: If your loop is a bit too small you may also clip or file the very top of the teardrop point.



Design # 564:DI01

Creating this design is as EASY as 1-2-3!

1) Review the items below, everything you need for this project is listed below. Uncheck any items you already have.

2) Press the "Add Checked Items To Cart" Button.

3) When you're ready complete your checkout and we will get your items shipped to you right away. Before you know it you'll have everything you need for this beautiful design!