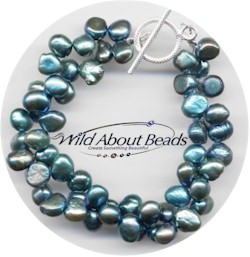 Pin It
Twisted Pearl Bracelet

Create a comfortable summer bracelet with teardrop pearls in the colors of your choice.
This project looks like you've done a ton of work, but is actually quite simple!
Choose your color pearls below

Start with 2 feet of Soft Flex wire

Crimp one end of the clasp in the center of the wire

Add pearls equally to each strand

Crimp the ends together

Twist, clasp and wear!
Sure to get compliments--you'll love wearing this bracelet every day!



Design # 565:DI02

Creating this design is as EASY as 1-2-3!

1) Review the items below, everything you need for this project is listed below. Uncheck any items you already have.

2) Press the "Add Checked Items To Cart" Button.

3) When you're ready complete your checkout and we will get your items shipped to you right away. Before you know it you'll have everything you need for this beautiful design!