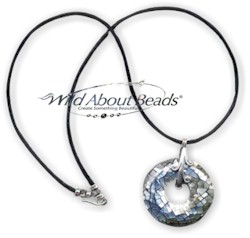 Pin It
Mother of Pearl Donut Necklace

Wearing this light and airy seashell mother of pearl necklace will inspire thoughts of the seashore and a gentle summer breeze.
A gorgeous mother of pearl donut hangs from and is accented by a sterling silver tri-swirl bail. Strung on a simple satin cord, with a sylish sterling silver hook and eye clasp. Perfect for anyone, anytime.
The pictures just don't do these donut beads justice. The light play off the mother of pearl is just incredible!
Completing the project is simple:
Slip the donut bail through the donut and squeeze

Thread the silk cord through

Crimp the clasp ends and enjoy


Design # 613:DI07

Creating this design is as EASY as 1-2-3!

1) Review the items below, everything you need for this project is listed below. Uncheck any items you already have.

2) Press the "Add Checked Items To Cart" Button.

3) When you're ready complete your checkout and we will get your items shipped to you right away. Before you know it you'll have everything you need for this beautiful design!
Item Price (ea)
Quantity Needed For Design
Item Description
Leave Checked To Add To Cart

---

Only: $4.99 each
Mother of Pearl Donut Bead
Item # 07-MB3

Note: Please Choose Options For This Item

---

Only: $0.25 each
Rat Tail Satin Cord by the foot
Item # RATTAIL

Note: Please Choose Options For This Item

---

Only: $3.77 each
Sterling Silver Swirl Donut Bail
Item # SS399

Note: Please Choose Options For This Item

SORRY
SOLD OUT

---

Only: $3.77 each

Item #

Note: Please Choose Options For This Item

---