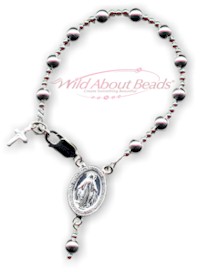 Pin It
Sterling Silver Rosary Bracelet

Create a stunning Sterling Silver Rosary bracelet with only the highest quality silver you can buy.
Rosary Instructions:
Start with 1 feet of Soft Flex wire

String 6mm beads seperated by three or four of the 2.5mm beads depending on your wrist size

Repeat until you have ten 6mm beads total

Crimp one end of the softflex to the right side of the rosary componet

Crimp the other end onto the sealed ring and add your cross onto this ring

Use an open jump ring to add your clasp to the other side of the rosary component
Almost done..
Add one 2.5mm bead, a 6mm bead, and then one more 2.5mm bead to a headpin.

Wire wrap this dangle onto the bottom ring of the rosary medallion.

Enjoy!


Design # 631:DI08

Creating this design is as EASY as 1-2-3!

1) Review the items below, everything you need for this project is listed below. Uncheck any items you already have.

2) Press the "Add Checked Items To Cart" Button.

3) When you're ready complete your checkout and we will get your items shipped to you right away. Before you know it you'll have everything you need for this beautiful design!