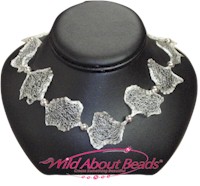 Pin It
Silver Ribbon Mesh Necklace

A great necklace for the summer. It's light, airy, and stylish too!
Putting this project together couldn't be easier:
First squish the ribbon between your fingers to form a tip

Slide 15 beads onto the ribbon

Space the beads approx. 1 1/2" apart

Between each bead spread the ribbon with your fingers

To finish, fold the end of the ribbon onto itself and insert into the crimp clasp

Crimp and cut off extra ribbon

Enjoy!


Design # 649:DI11

Creating this design is as EASY as 1-2-3!

1) Review the items below, everything you need for this project is listed below. Uncheck any items you already have.

2) Press the "Add Checked Items To Cart" Button.

3) When you're ready complete your checkout and we will get your items shipped to you right away. Before you know it you'll have everything you need for this beautiful design!